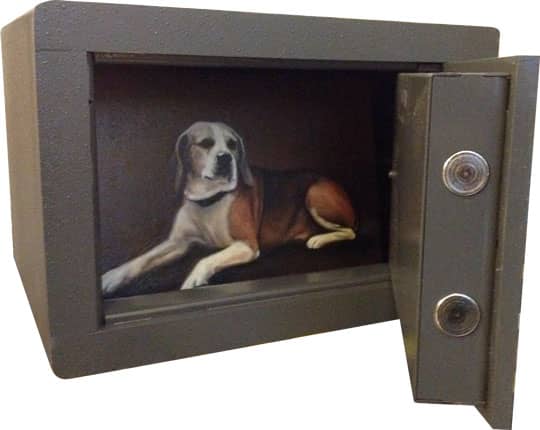 Poldo, the work by Leonardo Petrucci for homeowners Stephanie Fazio and Francesco Basileo for the fifth Art Sweet Art project, will be displayed inside a safe manufactured by CISA, technical partner of the project. The concept of what should be displayed and what must be concealed is turned on its head, a deception worthy of Magritte.
The small canvas inside the safe – barely 30 x 20 cm – is actually a portrait of Poldo, Stephanie and Francesco's dog. But shouldn't a dog guard your most precious belongings?
Here the work of Leonardo Petrucci invites us to reflect on the hierarchy of the things we care about most. Because Poldo is the real treasure in the Fazio-Basileo household: this four-legged friend is more important than any other object in the house and is at the very centre of Stephanie and Francesco's domestic life. So the dog goes from guarding to being the most precious thing to guard. Something to be kept safe, inside a CISA safe!