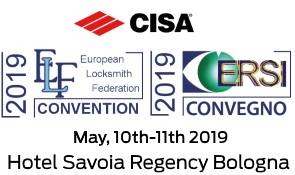 Every year hundreds of locksmiths come together for insights and updates from the security world, participating in training courses, seminars and workshops, as well as seeing first-hand the new solutions of the producers in the exhibition area.
CISA will present its solutions for the residential sector on Friday 10 at the Sala Grace, from 2pm to 3.30pm.
Seminar:
CISA platform for residential use
Friday 10 May
14-15.30 Sala Grace
Limited places available! If you wish to participate, send an email with your details and you will be contacted by our staff to confirm your registration.
Check the complete programme on the event's website.